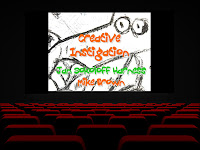 I'm not a big "shoot for HUGE and settle for what you get" person. I'd rather "shoot for reasonable" and reach it through strong planning. With the "Creative Instigation" presentation Jan Harness and I are doing today, however, I've tried to consciously force myself to stretch, in keeping with our message.
Early on, we imagined a "live" blog - with whatever possibilities that suggested. We translated that into writing and introducing a book on "Creative Instigation" based on common themes in our blogs. After selecting articles in April, we began editing and augmenting them with new material and illustrations.
By July, the book was in solid draft form, yet we realized that we needed to start creating the live presentation. We reluctantly put full time work on the book on hold and turned attention to building the content for today. Interestingly, because of all the effort on the book, identifying a shorter set of exercises for the presentation became relatively straight forward.
I shifted attention in late July to the session workbook. Inspired by a creative activity book from Veer.com, the design resulted in a colorful, picture-filled, 38-page workbook that looked different than anything we'd ever done. I printed a completed copy last week and took it to an EVIL copy center for a quote on producing 60 copies. The bid: $1500. Needless to say that wasn't happening! (It's funny though that when looking at a copy of it, Jay Liebenguth said it alone was worth the price of admission to the session. He didn't know how right he was!)
After a few frustrated phone calls with Jan and some heavy duty anxiety, the task was clear – for now, reduce the pages by at least 50% and make it work in primarily black and white. And do it all that Sunday evening.
I didn't think such a transformation would be possible that quickly, but because of the more ambitious work that had been done, it came together very easily. The prospect of spending $1500 made editorial decisions much clearer.
The lesson? In both cases, shooting big and landing short moved "Creative Instigation" ahead much more dramatically and effectively than if we'd started to simply do a presentation and a handout. I guess applying the lesson to the book now suggests that as we revisit completing it, we should be shooting for "Creative Instigation" as a major motion picture!