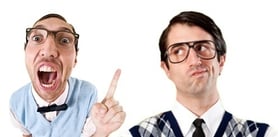 While it might require a healthy dose of strategic gymnastics, it's still easy to narrow down competitor comparisons on how your brand performs to a subset of only direct competitors who do exactly what you do.
When you make the strategic decision to try to create favorable comparisons by only looking at how your brand is doing relative to brands JUST LIKE yours, you:
Make everyone feel better about how your brand is performing
Restrict nagging strategic discussions about brand weaknesses
Allow your brand to be number one in something – or maybe many things
Give your salespeople something to talk about
Create tidier competitive comparisons
Don't have to invest as much in doing new things to keep up
Don't have to invest as much in doing what you do today dramatically better
Help create focus
Provide a quick way to sidestep challenging performance questions
Help fuel a sense of internal brand pride
While these things can all seem good and make things easier, they all stand in the way of your brand creating strategic impact. That's because easy competitor comparisons completely miss that your customers don't make easy comparisons for your brand and that the most dangerous potential competitors may look NOTHING LIKE your brand.
Your customers are most likely comparing everything you do for them and everything they experience about your brand to the brands they know perform those particular functions the best. That's true whether those other brands are in your market, or if you have even heard of these brands, let alone track them as part of your standard competitor comparisons.
While you may feel the need to make easy competitor comparisons to get everyone to feel good about your brand, you'd be much better off to make all the hard comparisons instead.
Making the hard comparisons will get everyone motivated to improve your brand to be truly exceptional and distinct compared to ANY other brand out there.
Making the hard comparisons will fuel creating strategic impact. - Mike Brown
"How strong is my organization's social media strategy?"
Is your social media implementation working as well as it can? In less than 60 minutes with the new FREE Brainzooming ebook "9 Diagnostics to Check Your Social Strategy," you'll have a precise answer to this question.
Any executive can make a thorough yet rapid evaluation of nine different dimensions of their social media strategies with these nine diagnostics. Download Your Free Copy of "9 Diagnostics to Check Your Social Strategy."