Suppose you have project management responsibility to review concepts with a group to solicit reactions and input. What project management steps should you take to productively review concepts so the feedback is a valuable as possible and leads toward creating strategic impact with the work?
3 Project Management Steps to Productively Review Concepts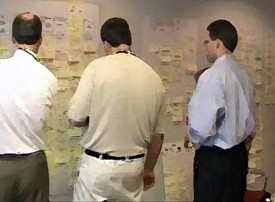 Here are 3 essential project management steps that make reviewing concepts a much more valuable experience:
1. Create a framework to productively review concepts.
You know how you'd prefer group members review concepts; you know what types of input will be helpful as you work on the concepts further - or at least you should! With this knowledge, do yourself a favor and share it with the review group before the session.
You can provide everyone with a copy of the strategic brief, background on inputs you used, and / or clarification on the opportunities you are addressing. Share a list of questions or assessment criteria to structure how they form feedback and review concepts. You could even give them an evaluation scale to compare the concepts to one another.
2. As you review concepts. start with the junior person.
When the group is ready to provide feedback, attempt to begin by soliciting feedback from the most junior person first, followed by the next most senior person, and so on. An alternative is to begin with the quietest, most reserved person and move through the group to the most outspoken person.
The rationale is to gain early input from individuals who are most likely to have their feedback compromised by others sharing comments before them. In this way, you stack the deck to maximize the amount, honesty, and diversity of feedback from the review group.
3. Develop an escape plan to end the review
It is tragic to productively review concepts with a group and then reach the meeting's end with no clear way to bring it to a quick close. Without a escape plan going in, indecision about what happens next can lead to unproductive conversation that quickly derails progress or negates decisions made up to that point in the review meeting.
For your review meeting escape plan, know what you will do with the feedback and which individual or subset of individuals will set the stage for what happens during the next round of development.
One productive alternative is for you, as the concept presenter, to summarize feedback into a set of next steps to shape additional work. Another possibility is the senior decision maker deciding on next steps (which you want to pre-plan with that person). The horrific possibility is trying to create a consensus where one doesn't already exist. That leads to further development stalling because rather than trying to address a strategic objective you are left trying to satisfy potentially contradictory opinions. And that's a situation that will never lead to creating strategic impact.
How do your project management steps help in creating strategic impact?
What works for you to manage review meetings effectively? Or do you have juicy stories to share of when things didn't go right when you were seeking feedback? We'd love to hear them! - Mike Brown