We wrapped up the AMA Marketing Research Conference last week to very kind words from a number of participants about the different nature of the conference experience.
The secret of great, meaningful brand events lies in a simple formula. Look for the st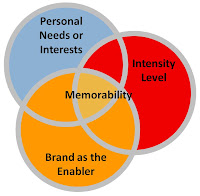 rongest possible alignment on these 3 dimensions:
Attendees' personal interests
An event's emotional intensity
A brand's visibility as the event's enabler
The formula works across many venues and event types. Recognize the enabling brand can be for business (i.e., an event sponsor), or it may be a personal brand (you and your spouse throwing a holiday party).
No matter what the event, consider and deliver on these three variables to see a difference in your audience's experience and reactions. - Mike Brown