On Tuesday, we were at the Kansas City Public Library to shoot videos featuring content from Brainzooming articles, downloads, and workshops. It was a whirlwind day. We shot twenty-five videos during the day to support our own brand's content marketing strategy.
Yeah, twenty-five videos.
Videozooming, you might say.
I planned forty videos, but knew that wouldn't likely happen.
15 Keys to Shooting 25 Social Media Videos in One Day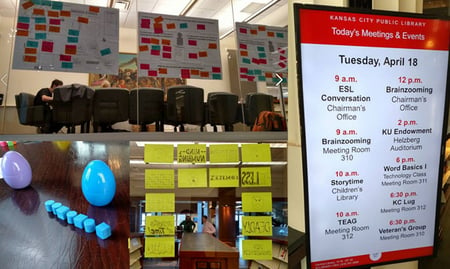 You might wonder how we made it through twenty-five videos in one day. Here are the factors (from my side of the camera as the person in all the videos) to enable our high volume of work. We:
Partnered with a video team (Alex Bentzinger of Bentz Creative) who was flexible, and willing to work with strong direction.
Picked a single location (The Kansas City Public Library) offering a wide variety of settings within one building (and we didn't even use all the settings we planned).
Made a site visit ahead of time to identify and discuss logistics.
Completed a strategic creative brief ahead of time.
Prepared an easy numbering system to identify and select which video to do next.
Did not prepare specific scripts for any of the videos. This meant they didn't have to be delivered perfectly; they just had to be delivered on topic and close to the time limits we set (less than 2 minutes each).
Mapped where each video would likely happen so we could be time efficient within a specific location.
Tried to plan for every potential delay by over-accounting for anything we might need.
Organized all the props using the video numbering system, allowing for efficient placement.
Selected multiple outfits and multiple shooting locations to efficiently create visual variety.
Had someone directly representing the creative vision (Jan Harness, my erstwhile Creative Instigation partner) to check camera angles and how I was doing. That allowed me to concentrate on delivering messages.
Had a contact at the location to help us navigate any issues we might create by shooting in places we weren't exactly supposed to be shooting.
Concentrated on the main content in the video, leaving the intros and calls-to-action for later when we have a stronger sense of how they need to work.
Captured most of the videos in one take. Granted, this may be difficult to do, but it helped that we were talking about content that is familiar and core to what The Brainzooming Group does.
Stuck to shooting the videos we identified upfront with only a few deviations to pursue ideas that developed during the day.
Expanding Our Content Marketing Strategy with Video
We're looking forward to completing the production and expanding our content marketing strategy in a new way. We'll be sharing the videos with clients and subscribers to expand how we deliver strategy, branding, and innovation tools for you! – Mike Brown