Dr. Mark Hinderliter, a long-time friend has launched a new podcast, Real Business in Real Time. In his third episode, Mark and I spoke about how to connect the dots between strategy and execution (and cultivate fun strategic planning). I invite you to listen to the podcast. You'll learn productive tips on developing and implementing a strategy for success, no matter where you are in the continuum from strategizing to implementation.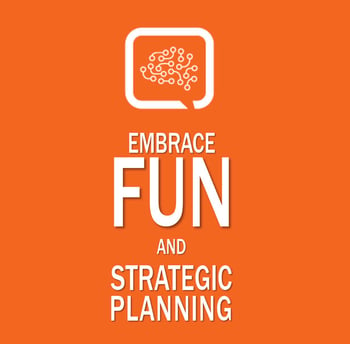 As you listen to Mark and I discuss connecting the strategy and execution dots, here are links to expand and go deeper on the ideas we share.
Typical Challenges in Developing Effective Strategies
Getting Ahead of Change
Staying Ahead of Disruptive Forces
What Makes Fun Strategic Planning Fun?
Turning Plans into Implementation
What does good look like with strategy and execution?
Making Big Improvements to Strategy
Most Important Tip for Successful Strategy
If you have more questions, email me and let me know how we can help with resources or collaborating to guide you through fun strategic planning and implementation. – Mike Brown
How will you stay up on all the ideas for developing innovation strategies if you don't join us and subscribe to the Brainzooming newsletter? We have a ton of ideas already out here, and more are coming all the time. Sign up to gain your strategic advantage!