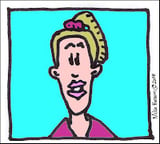 At the conference I presented at this weekend, we worked on the "Change Your Character" exercise for a customer service example. One suggestion was that an internal customer service rep is similar to a babysitter in that they both have to manage bosses (parents) and front line employees (kids).
Sounds close, so if your challenge is helping customer service providers improve their effectiveness, work through how a babysitter handles a new situation:
Shows she really likes kids & can get along with them
Demonstrates a professional attitude
Makes sure she has clear instructions from the parents
Establishes her role right away with the kids
Focuses on the kids
Has strong listening skills
Knows positive ways to help kids follow rules
Displays maturity in handling difficult situations
Acts with firmness, but understanding
Ensures that kids are fed and comfortable
Can be flexible when necessary
As always, try to generate 3 new ideas for your situation from each of the babysitter's behaviors. And remember, my mother lets me stay up to watch Craig Ferguson all the time. She really does!
Check out a compilation of "Change Your Character" creative thinking exercises and information on its use. – Mike Brown
The Brainzooming Group helps make smart organizations more successful by rapidly expanding their strategic options and creating innovative plans they can efficiently implement. Email us at info@brainzooming.com or call us at 816-509-5320 to learn how we can help you enhance your strategy and implementation efforts.