As you think about your career strategy, how do you see yourself?
Are you bigger than your job, or is your job bigger than you are?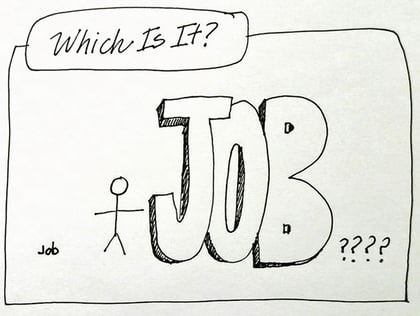 I had not really considered this career strategy question until the end-of-season speculation about which NFL coaches would be fired immediately after the regular football season's final weekend. The discussions seemed sad, as if NFL coaches at poor-performing teams could do nothing but sit around and wait to be ushered out the door. In those situations, it seemed clear these coaches' jobs were bigger than they are.
Tom Coughlin was one striking contrast among departing NFL coaches.
In his final press conference as coach of the New York Giants, Tom Coughlin demonstrated what it looks like when someone is bigger than the job. Coughlin "resigned" after fifteen years with the New York Giants, twelve of them as head coach. He led the team to two Super Bowl wins, and was on the coaching staff for another one.
Rather than playing back what Tom Coughlin had to say, you can read the transcript of his remarks.

I would encourage you, however, to watch the press conference video.
You will get a sense of someone who, while obviously devoting himself to his job, his organization, and his players, definitely realizes his job is not bigger than he is. - Mike Brown
Download our FREE "Taking the No Out of InNOvation eBook to help your career strategy as you embrace greater creativity and appreciation for ideas of the talented team members surrounding you! For organizational innovation success, contact The Brainzooming Group to help your team be more successful by rapidly expanding strategic options and creating innovative growth strategies. Email us at info@brainzooming.com or call us at 816-509-5320 to learn how we can deliver these benefits for you.