The June Fast Company features its list of The 100 Most Creative People in Business 2013. Last year, we used the issue as a point of departure to share ideas, tips, and thought starters inspired by each of the creative people on the list. Last year's series of Brainzooming posts based on the 100 Most Creative People in Business 2012 has received great attention all year long, and for this year, we're taking a bit of a twist.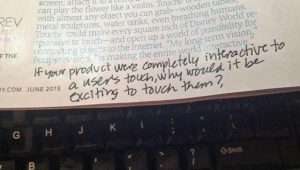 Given interest in the recent Brainzooming post highlighting more than 200 strategic planning questions, we used the stories from the most creative people in business list to generate strategic thinking questions inspired by the varied creative successes represented in the issue.
As with last year's Brainzooming recap, these questions AREN'T in the Fast Company issue. Instead, we applied our technique of taking a case study and imagining the questions that would inspire someone else to get to the same place as the person or business in the case study.
So to repeat: this is ALL NEW CONTENT you'll be reading throughout our series of posts. Later in the week, I'll explain WHY I'm being so emphatic about this being content you won't see in Fast Company. Stay tuned for that!
Branding and Customer Experience Questions Inspired by the Fast Company 100 Most Creative People in Business 2013
Today's list includes twenty-five strategic thinking questions on branding and customer experience. Later in the week, we'll feature questions on creativity, content marketing, insights, and strategy.
Branding Questions
How can you change your brand experience to cause people to want to spend more time with the brand? (12. Liz Muller - DIRECTOR OF CONCEPT DESIGN, STARBUCKS)
How would an artist create a live art event starring your brand? (16. Ai Weiwei – ARTIST)
What could you do to grow a large enough audience and facilitate a way for them to want to talk about your brand more and longer? (19. Fred Graver - HEAD OF TV TEAM, TWITTER)
If "cute" is part of your brand personality, how can you make your brand experience more childlike to enhance its "cuteness"? (22. Phill Ryu and David Lanham - FOUNDERS, IMPENDING)
What do your customers love about your brand, and how do you respect what they love when you freshen your brand experience? (25. Jason Wilson - LEAD PRODUCT DESIGNER, PINTEREST)
What are the hidden aspects of your brand experience that hold new, untold, and intriguing stories? (63. Roman Mars - HOST, 99% INVISIBLE)
How can you start serving the cool part of a market that isn't being served sufficiently? (68. Rosie O'Neill and Josh Resnick - COFOUNDERS, SUGARFINA)
Customer Experience Questions
If your product were completely interactive with a user's touch, why would it be exciting for them to touch the product? (15. Ivan Poupyrev - SENIOR RESEARCH SCIENTIST, DISNEY RESEARCH)
What are you doing to add more personalization (that provides value) into your customer experience? (17. Michelle Peluso - CEO, GILT GROUPE)
How would fewer choices make things easier and better for your customers? (67. Aerin Lauder - FOUNDER, CREATIVE DIRECTOR, AERIN)
How can you offer customers a smaller set of options, but give them more flexibility and higher performance as a trade-off? (30. Bob Mathews and Gary Chow - SENIOR RADIO FREQUENCY ENGINEERS, AT&T)
If you redesigned your business - even if it's a stodgy business – around delivering "more fun for customers," what would have to change about your customer experience? (35. Alli Webb - FOUNDER, DRYBAR)
How would your brand's customer experience change if you designed it for the lowest common denominator technology instead of the newest technology? (4. Kirthiga Reddy - DIRECTOR OF ONLINE OPERATIONS, FACEBOOK INDIA)
What can you do to translate what you know about your customers into pleasant surprises for them? (46. Jackie Wilgar - EVP OF MARKETING, LIVE NATION)
What are new ways you can turn customer research efforts into customer design opportunities? (48. Tina Wells - FOUNDER, CEO, BUZZ MARKETING GROUP)
In what ways could you create opportunities for your customers to meet, talk, and bond? (56. Sarah Simmons – CHEF, CITY GRIT)
How can you make the online and offline experiences of your brand have the same feel? (64. Tare Lemmey - CEO, NET POWER & LIGHT)
If your customers don't have a 100% success rate with your product or service, how can you make it more like something they can do/use with complete success? (66. Michael Buckwald and David Holz - COFOUNDERS, LEAP MOTION)
What can you do to feed information to customers about what other customers are thinking / choosing / doing right now? (70. Kevin Bruner - PRESIDENT, CTO, TELLTALE GAMES)
In what ways can you bring together people who wouldn't otherwise meet but would find value in doing so? (71. Caroline Ghosn - FOUNDER, CEO, LEVO LEAGUE)
How could you turn a complicated process in your customer experience into a one-step process? (73. Katelyn Gleason - COFOUNDER, CEO, ELIGIBLE)
If your product requires training to use, what do you need to change about it so you can eliminate all training? (74. Aneel Bhusri - COFOUNDER, CO–CEO, WORKDAY)
What is pre-planned in your customer experience that would benefit from being spontaneous, and how can you make that happen? (75. Andy Cohen - TV HOST, EVP OF TALENT AND DEVELOPMENT, BRAVO)
How can you make it easier for potential customers to go from receiving a reminder about your brand to taking action (with telepathic communication as the end goal)? (85. Grace Woo - FOUNDER, PIXELS.IO)
If combining live events, social, and crowdsourcing is where it's at, how do you use social to let the crowd, whether in-person or remotely, influence your event? (87. Bozoma Saint John - DIRECTOR OF CULTURAL BRANDING, MUSIC, AND ENTERTAINMENT, PEPSICO)
The Brainzooming Group helps make smart organizations more successful by rapidly expanding their strategic options and creating innovative plans they can efficiently implement. Email us at info@brainzooming.com or call us at 816-509-5320 to learn how we can help you enhance your strategy and implementation efforts.