I'm not a frequent plane talker.
My mother says I have a look that says, "Don't talk to me." If that's true, it's not because I consciously TRY to display that kind of look. I will admit, though, that small talk isn't one of my favorite activities.
And on a quiet plane flight, I typically get a ton of writing done.
When someone starts airplane talking though, I'm going to listen, especially when the person is a riot.
That's what was happening on the first leg of the flight home from Content Marketing World in Cleveland late yesterday afternoon.
Rolling in the Aisles
Blogging away while the plane was boarding, I watched with interest as a woman was rearranging luggage in the overhead bin. She grabbed a small bag and asked the owner to stow it under her seat so more luggage (specifically her own carry-on bag) would fit.
She sat down in the middle seat between me and a guy having a particularly loud phone conversation.
I think OUR conversation started with, "What's the matter with people who think they should have loud conversations wherever they are?"
We quickly discovered we'd both spoken at Content Marketing World. Her name is Ahava Leibtag, author of "The Digital Crown: Winning at Content on the Web
," (affiliate link) and the niece of the late U.S. Senator Arlen Specter (who was from Russell, Kansas, just 30 miles from where I grew up).
SHUT UP . . . or not!
I can't begin to replay all the hilarious ground we covered. Suffice it to say Ahava should be a stand up comedian. And during the flight, she developed her go-to, comedic catch phrase, complete with 37 different inflections of it based on the situation. I can't reveal the comedic catch phrase, though, until she secures the URL.
Brand Strategy
Amid the laughs, Ahava also weighed in (repeatedly) on the Brainzooming brand strategy, insisting we re-brand immediately as ZoomyZoome (with two long e sounds after the zooms).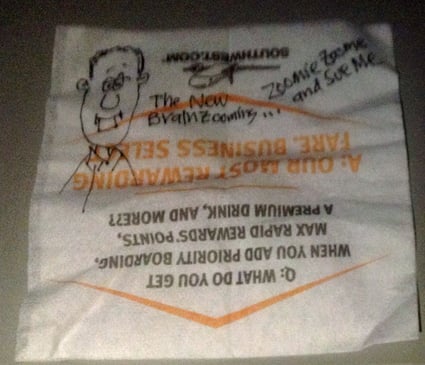 Based on the name alone, we should be able to raise millions in venture capital, since it sounds as if it would be a hyper-hyped app! And if we want to extend the brand strategy to become a shady ambulance-chasing law firm, THAT name would be ZoomyZoome and Sue Me. You can see the results of this early brand strategy exploration for yourself.
Airplane Talk
You may ask about this post, "What is happening to the Brainzooming blog?"
I know, sue me. (See what I just did there?)
After The Beatles tribute band post the other day, I promised the very next post would be serious.
Sorry.
The NEXT post will be serious.
But this was the funniest airplane talk ever. And after a long week, you just can't keep that to yourself.
So, what is your funniest airplane talk ever? Wanna talk about it? – Mike Brown