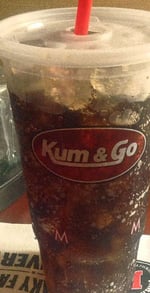 First an admission: Coming from a business-to-business market where we never invested ENOUGH to cover all the brand strategy bases we needed, I have never been a big fan of limited time only, standalone marketing campaign or sponsorship messages with too few ties to the overall brand.
Or maybe I should say I at least wasn't as big a fan of them as our advertising agencies seemed to be.
But then again, that's what our advertising agencies were pitching to drive THEIR revenue.
When your brand is under-investing relative to baseline levels for your own brand or your competition, however, it's tough to get excited about putting disproportionate, yet still too few resources behind one-off marketing communications strategies.
8 Questions on Launching Campaign-Specific Marketing
Having said all that, I understand why it can make sense to have campaign-specific urls, social media presences, and messaging. It's vital, however, that it makes strategic sense.
And how do you know if it makes strategic sense for your brand strategy?
Answer these eight questions about your intended campaign-specific branding and marketing communications efforts:
Is there a strategic need to deliver a hyper-focused, targeted, partial brand message to our audience?
Is there an audience segment that disproportionately wants to affiliate with this temporary campaign presence?
Is there something distinctively different about the campaign content relative to our main content?
Will there be adequate marketing support to build attention for the marketing campaign presence?
Will the campaign presence add intrigue, freshness, and interest to our brand messages?
Have we accounted for how building the campaign presence feeds into building our main presence?
Is our main brand presence already so cluttered (in any number of ways) that it would obscure the campaign message?
Are we REALLY sure we won't be compromising investment and effort behind our main brand presence?
Obviously, the more "Yes" answers to these questions, the greater the likelihood campaign-specific marketing messages make sense for your brand strategy. – Mike Brown
The Brainzooming Group helps make smart organizations more successful by rapidly expanding their strategic options and creating innovative plans they can efficiently implement. Email us at info@brainzooming.com or call us at 816-509-5320 to learn how we can help you enhance your strategy and implementation efforts.