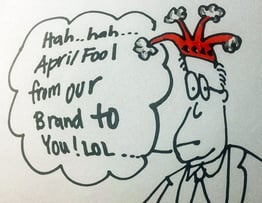 I'll admit I was tempted to create an April Fools blog post for today on "The Top Ten Reasons Creative Thinking Is Overrated." It would be a funny and quick post to write (ten spoof reasons followed by "April Fool") during what's going to be an already hectic week.
Then I remembered a post author Jim Joseph wrote last year extolling brands creating April Fools social media as a way to show a human side. I replied to Jim's blog saying I'd considered writing a post with reasons why a brand shouldn't do April Fools prank social media.
Well, fundamental brand strategy won out over blog writing expediency!
5 Reasons April Fools Prank Social Media Is a Joke for Your Brand Strategy
Here are five reasons April Fools prank social media content is a joke when it comes to your brand strategy:
Your brand represents a promise, and unless you're Penn & Teller or Stephen King, tricking your most important audiences is likely not part of your brand promise.
Just because another brand creates April Fool prank social media doesn't mean you should. If another brand jumped off a cliff, does that mean your brand would too?
Your brand doesn't use "funny" and "surprise" as a part of its brand strategy and brand experience any other day of the year. Doing it one day a year doesn't make your brand seem human. It just makes your brand seem confused or that it is a mindless follower.
Since your brand is more conservative than it is fun, you will only approach April Fool prank social media half-heartedly. If you are going to introduce humor into social media, you should be broad and/or consistent with it so your audience gets it.
Self-deprecating humor is safer than "at your audience's expense" humor. Can you turn your April Fool prank social media idea into one where your brand is the butt of the joke? Would you want to? Probably not.
What do you think about Aprils Fools prank social media and its fit with brand strategy?
You can say I'm too much of a stick in the mud, but if a brand tries to make fools of its customers, that doesn't seem to be part of a great brand strategy and brand experience. And on that point, I'm serious. No joke. - Mike Brown
"How strong is my organization's social media strategy?"
Is your social media implementation working as well as it can? In less than 60 minutes with the FREE Brainzooming ebook "9 Diagnostics to Check Your Social Strategy," you'll have a precise answer to this question.
Any executive can make a thorough yet rapid evaluation of nine different dimensions of their social business strategies with these nine diagnostics. Download Your Free Copy of "9 Diagnostics to Check Your Social Strategy."