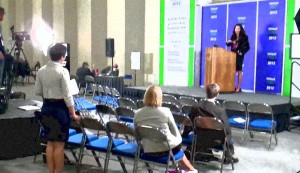 One of the worst situations for presentations is being mentally and logistically prepared for a large crowd in a room to match only to find a small audience in a too big room the day of the event. It's easy as a presenter to get deflated in these settings and allow the conference room's empty vibe to effectively swallow the audience, the presentation, and your energy as a presenter.
There have been a number of these mismatched presentations at the PCMA / VES conference this week in San Diego. Witnessing how multiple speakers have done - some better and some worse - with these presentations suggests nine success tips for better presentations with a small audience and a big room.
1. Get people to move to the front of the room as they walk in the door.
Virtual emcee Emilie Barta arranged with the hosts of her session to push everyone to the front of the room as they entered, when they're most likely to make the move to the front. I've tried taping a $20 bill to the bottom of a chair in the first rows, but once people are in place, they're very unlikely to get up and move forward, even for $20!
2. Bring along a fan – or cultivate one really quickly.
With a small group, it only takes one person smiling, nodding with understanding, and making frequent eye contact to help get a presenter through a session strongly. Get someone you know to be your fan, or if you don't know anyone at your session, make friends with a friendly looking person before you start. A quick pre-session personal connection coupled with making eye contact (or even involving your new friend in the presentation) can really help sustain your energy.
3. Don't settle for silence as you begin.
Often in these situations, the moderator isn't very enthusiastic and delivers and introduction to match. There's nothing worse than starting a presentation to no applause. During Monday afternoon's session, when the moderator didn't ask for a "warm welcome" for me, I started by telling the audience how I always start applauding when I'm in the audience, so I was going to do it from the stage. Sure enough, I started clapping and everyone else followed.
4. Ignore the empty space.
A big part of keeping my own energy up when there are a lot of empty seats depends on consciously focusing my vision on the biggest concentration of people sitting together – even if it's only a few individuals. By mentally cutting off my view of the room's empty parts, the room looks much more densely populated, which is what you always want to be the case.
5. Be even more enthusiastic.
Emilie Barta provided another great example of this. She and co-presenter Aaron Cole did an outstanding job of keeping strong energy levels throughout their session – effectively reaching not only the in-person audience, but going out to talk directly to the camera and reach the virtual audience too. It's easy to pull back with a smaller audience, but they demonstrated the value of pushing the enthusiasm even higher.
6. Don't pause during the presentation.
This contradicts advice for presenters about checking in with and engaging an audience. My rationale? Seeing Victor Delorenzo, drummer for the Violent Femmes, open for Marshall Crenshaw at the Granada Theater in Lawrence, KS years ago. With a small audience who WASN'T there to see him, Delorenzo never gave the crowd a chance to greet an unknown song with feeble applause. Once his band started playing, they never stopped. One song ran right into the next, sustaining what energy there was in the room. The same trick can apply with presenters and small audiences. Keep talking and don't stop to ask for verbal comments or questions that could easily be met by energy-sapping silence.
7. Share more personal content – whether it's personal or business-related.
If the audience is an intimate one, maybe it's time to make your content more intimate than you would with a bigger group. Try introducing new stories or examples you haven't used before. Share additional relevant details for a story you frequently tell. Letting a small audience know they're getting something new and unusual can build a big bond. One key to making this work is to have some room in your slides and not depending on them so heavily. This gives you the opportunity to stretch out a story or two.
8. Ask yourself your own questions.
Ideally, you should plant a few questions with the audience. If you don't have the time or opportunity to do that, be ready with some of your own questions. Even if the audience doesn't respond when you solicit questions, get things going by sharing a typical question asked during your presentation and answering it!
9. Don't ever finish with asking for questions.
I heard this lesson years ago: don't ever end with asking for questions. Always have a closing slide or a story so in case the audience responds with silence, you can simply tell them how to get in touch with you if they do come up with questions later. Then transition to a closing comment, letting your words (and not the audience's silence) be the last thing people remember. – Mike Brown