I've had multiple social media-oriented conversations with potential clients recently about how social media in general, and Facebook specifically, supports business-to-business (B2B) relationship marketing. In the midst of these conversations, a real-life B2B relationship marketing case study played out recently courtesy of a Facebook friend who is in B2B sales. Her business-to-business Facebook example demonstrated the strategic perspective we advocate with clients: you can create dynamic experiential marketing opportunities by integrating guerrilla marketing, event marketing, and social media in a B2B setting.
One note: I asked my friend who was behind this experiential marketing case study about using photos and actual Facebook screen shots to better illustrate the content marketing side of her strategy. Because of privacy concerns, however, I can't. As a result, this overview is generalized - to protect those who had the fun.
The Experience Creator
My friend is a senior business development leader for a marketing services company. She's an incredible networker who will tell you everybody she does business with is a friend. Looking through her nearly thousand Facebook friends, you see a mix of marketers on both the client and provider side. Ultimately, she's looking to her network and relationship marketing to grow her company's revenues through helping more clients in more ways. That's a pretty classic business-to-business objective.
Strengthening B2B Relationships Through Experiential Marketing
My friend created a couples-oriented, weekend experience for several decision makers and influencers at a current client. The weekend involved a few meals - one at a steakhouse Esquire magazine recognized as a top US restaurant and another at a restaurant with a striking view of a natural landmark.
The big event for the weekend was attending one of the "dinosaurs of rock" concerts rumbling across the countryside this summer. Not coincidentally, my friend's husband knows a musician in one of the well-known bands. This afforded her client group seats close to the stage plus the opportunity to go backstage and meet and greet with performers from several bands.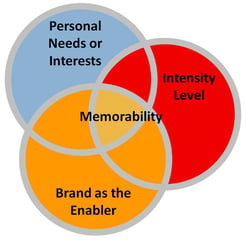 Nobody can deny that this had to be a memorable experience for the three business-to-business clients who participated since the experience took full advantage of the formula The Brainzooming Group recommends for designing memorable experiences:
High Personal Interest: The invitees were of an age where these bands would have been all over the radio during those formative teenage years
Strong Emotional Intensity: Being able to experience the concert up-close, go backstage, and meet the stars (made possible by using an important guerrilla marketing tactic: using all the relationships you have to improve your marketing assets)
A Clear Enabling Brand: My friend who created the experience was there the whole time
Combining personal interest, emotional intensity, with clarity about how a brand fits into that and made the experience happen is a proven formula for creating a memorable business-to-business experience.
Using Social Media and Content Marketing to Enhance Experiential Marketing
If my friend had done nothing more than creating this memorable event experience, she'd have further solidified relationships and likely identified new business opportunities with three key clients. And that's a lot. But she also turned the experience into a content marketing bonanza (again, just as we advocate). At each venue, she checked in on Facebook, plus had photos taken of:
Her and her clients
Her and her clients and their spouses
The performers onstage from their upfront seats
The entire group with the performers backstage
Importantly, she made the effort to tag herself, her clients, and even the performers they met in more than thirty photos she shared (with "public" status) on Facebook. Of course, her clients were able to like and re-share these photos with their Facebook friends too.
By turning the experiential marketing event into a content marketing opportunity, the weekend experience supported her relationship marketing objectives five ways,
A longer-lasting memory for her clients through documented moments on their Facebook timelines
A Facebook Edgerank strengthening situation as her clients engaged with her content multiple times, in multiple ways (Liking, Commenting, Sharing)
An opportunity for her clients to look like rock stars to their Facebook friends (many of whom are likely "professional" Facebook friends who also buy the types of marketing services my friend sells)
A signal to my friend's other current and prospective Facebook friend clients that great clients get an opportunity to have memorable experiences
A shot over the bow to my friend's competitors that they had better spend some time figuring out how to step up their own client relationships
In talking with my friend a week afterward, she told me she importantly secured an okay from each client invitee to share content on Facebook – a smart content marketing move since people can have very different privacy and comfort levels with social media sharing.
Combining Experiential Marketing and Content Marketing as Part of B2b Relationship Marketing
If you're still on the fence about how social media supports the business-to-business sales / business development process, this example should ideally start to push you off the fence. It's not an example that will work for every business-to-business situation, but it does demonstrate how you can use fundamental event marketing and social media principles to design customer experiences which grow, solidify, and drive results from business-to-business relationships. – Mike Brown
The Brainzooming Group helps make smart organizations more successful by rapidly expanding their strategic options and creating innovative plans they can efficiently implement. Email us at info@brainzooming.com or call us at 816-509-5320 to learn how we can help you enhance your customer service in a smart way without seeming as if you're micro-managing the customer experience.