Author John L. Allen, Jr. has been an influence on me in so many ways. Before becoming a well-known author, reporter, and sought-after expert on the Catholic Church's inner workings and current trends impacting it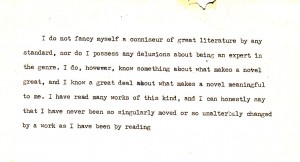 during and after Pope John Paul II, John Allen and I were very close friends in high school and college. As a result, my collection of early John Allen memorabilia includes fun things such as:
The standard opening paragraph John wrote which works for ANY book report.
A hand-written list of his "great sayings."
Many memories of hilarious stories of John's fearless exploits in student journalism and government, rock music criticism, and the consumption of food and beverages.
It had been at least ten years since I last saw John, right before he was moving to Rome to establish a beat there reporting on the Vatican for the National Catholic Reporter. As John told me at the time, he was going to Rome, in essence, to "wait for Pope John Paul II to die." After arriving at the Vatican however, John, not surprisingly, turned an opportunity other Rome-based reporters viewed as a laid back assignment into a platform to break stories of global impact through building relationships with important figures throughout the Catholic Church hierarchy.
In the decade since, John traveled on 50 trips with Pope John Paul II, and became the go-to Vatican analyst for CNN leading up to and after the death of Pope John Paul II. He's also authored numerous books, including "The Future Church – How Ten Trends Are Revolutionizing the Catholic Church."
Talking about "The Future Church" brought John to The University of Kansas recently in advance of heading back to Rome for the beatification of Pope John Paul II this weekend.
In writing this trend-focused book, John went through an extensive process to identify and vet potential trends against specific criteria to ensure the ten trends in his book could legitimately be considered so. After his KU lecture, I asked John to talk about the research and crowdsource-based process he used to settle on the ten trends in "The Future Church," since the strategy he employed is directly applicable to how one would approach forecasting current trends in any market or organization. – Mike Brown
The Brainzooming Group helps make smart organizations more successful by rapidly expanding their strategic options and creating innovative plans they can efficiently implement. Email us at brainzooming@gmail.com or call us at 816-509-5320 to learn how we can deliver these benefits for you.