Like all other Kansas City Chiefs fans (and much of the sports world), I'm fascinated by the team's new quarterback, Patrick Mahomes. His amazing run of touchdown passes along with the unusual formations and unique details of their plays (such as a left-handed throw by the right-handed Mahomes) make the Kansas City Chiefs very fun to watch.
I picked up a copy of the "Future Issue" from Sports Illustrated because of the topic and Mahomes' prominent cover image. The SI article focused primarily on Andy Reid, the head coach of the Kansas City Chiefs. It highlighted how he has built this intriguing and explosive offense by looking everywhere for innovative ideas.
Where does Andy Reid find innovative ideas?
Check out these quotes about Reid's sources for innovative ideas:
"He set up an R&D unit for offensive football, scouring film and tinkering with new play designs . . . (coach Brad) Childress would sort the Pro Football Focus database for every NFL play run out of an empty formation, looking for anything worth pilfering."
"He dug back into (Alex) Smith's college tape from Utah, where Smith ran Urban Meyer's spread-option offense . . . Then, on opening night in 2017, Reid's Chiefs roughed up the defending Super Bowl-champion Patriots with an offence that looked like nothing the league had ever seen."
"In the end, it all worked exactly as the Chiefs staff had seen it play out before . . . on North Dakota State's film."
Yes, Andy Reid and his staff are looking EVERYWHERE for innovative ideas they can lift and adapt for the Kansas City Chiefs offense. They are open to discovering innovative ideas for NFL plays no matter the level of football. By borrowing ideas from elsewhere, they can see ahead of time how they are working.
As one receiver, Chris Conley, put it, "The plays in our playbook could be from any year, anywhere. They just seamlessly come together. There's the conglomerate of good plays [Reid] has accumulated over time. That's what makes up this offense."
Where are you finding innovative ideas?
This quote made me think of how we have created the Brainzooming methodology over the years: through pure inspiration and artful adaptation from far-flung sources. The inspirations include reality TV, improv comedy, business consulting, Dennis the Menace cartoon books, magazine ads, and obscure behavioral laws, just to name a few!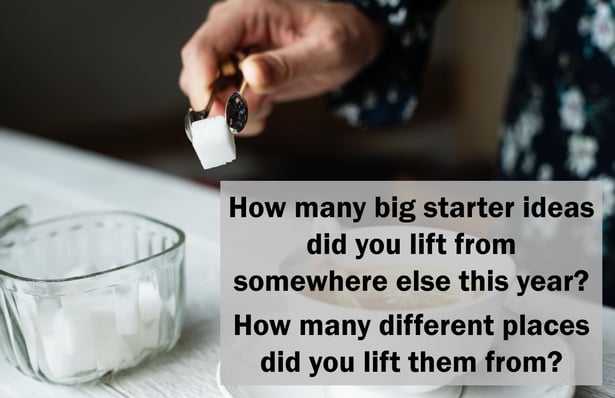 Here is something to reflect on to improve your creativity:
How many big starter ideas did you lift from somewhere else this year?

How many different places did you lift innovative ideas from?
We're not talking stealing trade secrets. Just review how broad your inspiration field is. Think about ways to expand your sources of innovative ideas in the year ahead! – Mike Brown