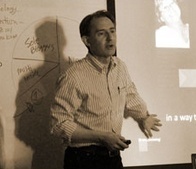 In a presentation for the Enterprise Center of Johnson County, I covered advanced Twitter tips and tools for businesses. The social media strategy concepts we covered, however, really apply to any status message-based social network, including Facebook and Google+.
Creating this largely new aggregation of advanced Twitter for business content for a 2-hour session provided a challenge. Reaching into my Twitter, social media strategy, and content strategy presentations as a starter, I wound up with way too much content for the timeframe.
Often when presenting to a group I will write a post with links to supporting information from the presentation. In the case of this advanced session on Twitter, there's a twist. Today's post incorporate links to material that DIDN'T make the presentation. While it is targeted at Enterprise Center of Johnson County presentation attendees, it also provides a good retrospective of previous social media content for anyone who's in the middle of trying to use Twitter and related social networks more effectively. By my count these 19 links will get you to at least 480 Twitter tips, lessons, and apps!
Making Twitter Work Harder
Brand Awareness and Buzz Building
Lead Development and Sales
Customer Engagement

If you're struggling with determining ROI and evaluating its impacts, download "6 Social Media Metrics You Must Track" today! This article provides a concise, strategic view of the numbers and stories that matter in shaping, implementing, and evaluating your strategy. You'll learn lessons about when to address measurement strategy, identifying overlooked ROI opportunities, and creating a 6-metric dashboard. Download Your Free Copy of "6 Social Media Metrics You Must Track!