I talk and write often about borrowing ideas as a source for creative instigation. One CreativeBloc question wondered about this strategy, saying borrowing a creative idea doesn't feel like creativity and doing it can weigh on one's conscience. The attendee asked for some clarification.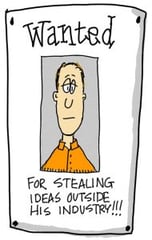 First of all, it's not as if I advocated stealing ideas (although I have advocated it in other settings)!
When I talk about borrowing creative ideas, it means consuming and reflecting on other inputs you can use to instigate new creative possibilities which are clearly your own.
Seven Ways to Borrow Creative Ideas with a Clear Conscience:
In each one of these creative instances, you're looking for creative instigation - not for copyright infringement - as you borrow creative ideas you can form into your own new creative works. – Mike Brown
If you'd like to add an interactive, educationally-stimulating presentation on strategy, innovation, branding, social media or a variety of other topics to your event, Mike Brown is the answer. Email us at brainzooming@gmail.com or call 816-509-5320 to learn how Mike can get your audience members Brainzooming!