Have you participated in an escape room yet?
You can visit Wikipedia for a more comprehensive description of an escape room. It's essentially a "locked" room filled with clues that a group needs to discover and decode in order to unlock the door and leave. It's a timed activity; the team is competing against the clock and previous players to see if they can escape within an hour.
Spoiler alert: My team didn't escape anywhere near the record of 32 minutes. My team didn't even escape within the hour; neither did the other team, although they turned their sign around in the photo below to make it look like they did!
7 Forgotten Project Management Skills from an Escape Room Fail
This was my first escape room experience. Our fail suggested seven solid project management skills we neglected to use.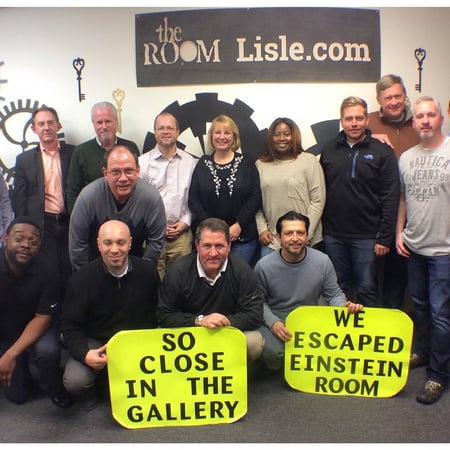 If you're visiting an escape room or are suddenly hit with a new, time-constrained challenge, here are the project management skills you shouldn't forget!
1. We didn't formally account for diversity.
They asked us how we'd like to split the group to participate in two rooms simultaneously. No one came up with an idea, so they simply drew a line through the group to separate us. Fortunately for my team, we had two women; we wound up with both gender and race diversity.
2. We spent no group time assessing the situation.
We followed the promptings of our handler and immediately started going through things looking for clues without any group evaluation or planning.
3. We didn't select a project leader.
I don't think we even asked if anyone had participated in an escape room before and had lessons to share. Without a designed project leader, the person that just found a clue or more boldly advanced an idea assumed leadership.
4. We didn't assign any other specific roles, either.
When we did start finding clues we squandered our time because we hadn't selected one person to organize, analyze, and keep track of them.
5. We wasted time going over the same ground multiple times.
Because we weren't tracking what others did, we wasted time going back looking at things in the room others had already explored and decided didn't contain clues.
6. We didn't manage our scarcest resource: time.
We casually paid attention to the countdown clock, but didn't take stock as time clearly slipped away from us. We should have re-set and devised a game plan to deploy and manage our final minutes.
7. We settled for whatever we were able to get done (and spun it as success).
Time ran out as we (according to our handler) reached about 80% of the clues. We patted ourselves on the back for getting a low B, and then immediately started telling the other team we did much better than we did!
Our Project Management Skills Fail Cratered Us
Yeah, from a project management standpoint, the escape room felt much like many hurry up and get it done projects that pop up in business. We dove in and scrambled to start without investing just a little time in planning and coordination. It could have made a difference.
Repeat our failings at your own project peril! – Mike Brown
Download our FREE "Taking the No Out of InNOvation eBook to help generate extreme creativity and ideas! For organizational innovation success, contact The Brainzooming Group to help your team be more successful by rapidly expanding strategic options and creating innovative growth strategies. Contact us at info@brainzooming.com or call us at 816-509-5320 to learn how we can deliver these benefits for you.