When thinking about your social media strategy, you should be planning for 6 important metrics. What are the six? There are 3 different levels of social media participation and 2 different types of measures. Put them in a 3 x 2 matrix, and you get six.
Here's the rundown on the 3 social media engagement aspects to measure:
Activity - Any metrics relating to actions your organization is taking on social media: blogging, tweeting, posting, promoting, etc.
Interaction - This category's measures focus on how your audience is engaging with your social media presence: followers, comments, likes, sharing, user created content, etc.
Returns - This group accounts for where your social media activities directly or indirectly support measures driving successful organizations: revenue creation (and the activities that lead up to it), cost minimization (along with activities to help achieve it), and other critical financial performance metrics.
Relative to the two different types of measures, use the "whole-brain metrics" strategy we've recommended before: capture both quantitative (left brain) and qualitative (right brain) elements. Using this metrics dashboard strategy accounts for both the "hard" numbers and softer perspectives (stories, images, buzz-related feedback) to provide the most complete evaluative picture of your social media strategy.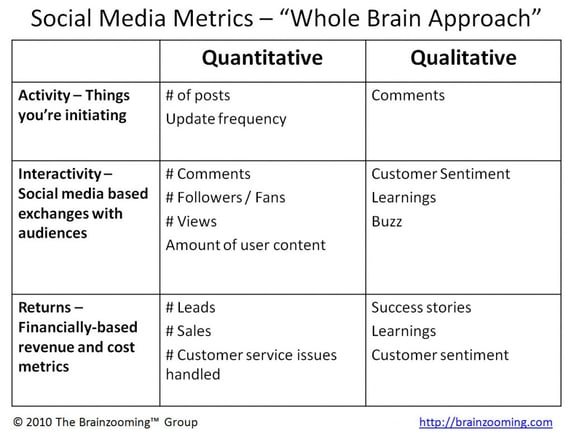 There's a clear advantage to considering the metrics strategy when devising your overall social media strategy. The earlier you think through what you should be tracking in these six categories, the better you'll be able to shape your innovative social media strategy to be ROI-oriented. - Mike Brown