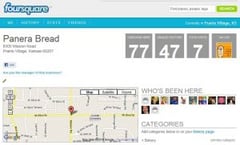 If you're blogging, are you getting together with your readers in person?
If you're reading a blog, are you reaching out to the author to share ideas?
If you're on either side of these questions and answered "no," here are five reasons why a strategy of bloggers and readers meeting in person makes sense:
You learn what messages have registered with people - I've often said I'm singularly unable to predict what material people will respond to most strongly. Talking with actual live blog readers helps better understand how they've reacted to material - even if it doesn't help in predicting what they'll like in the future!
New blog ideas get triggered by the conversation - Talking recently with a reader led to discussion about his job, his role and title, and business development strategies. All aspects of the conversation were rich with future topic possibilities, including the inspiration for this post! For readers, it's a great opportunity to shape and participate in content creation.
You can find out how people are reading the blog - I'll admit....I don't always look at the Brainzooming email or RSS blog feeds; I go to the website directly. Not everyone does that though. Talking with readers helps develop a better idea of the varied ways people are taking in the material, including getting a sense of how current readers are sharing it with new readers.
Guest post opportunities get considered - I haven't been soliciting guest posts as aggressively as in the past, but I should be. Guest posts add variety to the blog, provide additional visibility for cool strategic thinkers, and help to extend the blog's reach. While Twitter has been a fairly effective means to reach out to potential guest bloggers, asking a reader for a guest post (or shooting a video post) in person has much more impact.
You re-think what you've written lately - I used to write weeks in advance. Now it's usually a week ahead. Even so, between client work for The Brainzooming Group, articles for the Brainzooming blog, and guest posts at other websites, it's challenging to remember what's being published where. Answering questions and discussing current (and past) blog posts about strategy, creativity, and innovation makes it come alive for me as well as for the reader.
So if you're a Brainzooming blog reader in KC, get in touch, and let's meetup! - Mike Brown