For the first six years of The Brainzooming Group, I published a list near our anniversary date with twenty-five lessons learned or reconfirmed in the most recent year away from full-time corporate life. I skipped the article for two years as the pace and focus of business expanded.
When things took a dramatic stop, turn, and figure out how to regroup recently, I revisited the idea, figuring I HAD to have learned or reconfirmed many lessons during the two-year hiatus for this previously annual article.
35 Lessons Learned (or Reconfirmed) in the Last Two Years Away from Corporate Life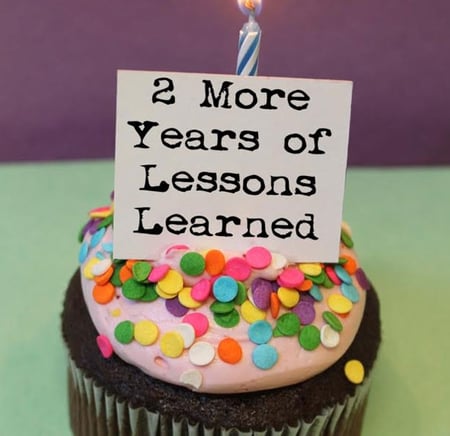 Here is what I have from these last two years away from corporate life:
Be careful about being too exact in what you pray for, thinking that is what you want. You may get it only to find it is exactly NOT what you wanted.
If you're an entrepreneur coming up with an idea, the core is built around you, no matter how much you want to open the doors for a group to collaborate.
After you run on so little sleep for some time, it seems (at least for me) that daily activities and interactions do not have enough opportunity to imprint on the brain, making them even more of a blur.
Build the things that make sense for the heart of the business. Find the team that makes sense with the core, not the other way around.
You can't blindly depend on what you have depended on before.
Work your ass off more, but talk about it less.
If you can remain strategic, things continue to fit together even if you had not been thinking through how they might fit together. That does not mean it happens as quickly as you might like, though.
Many things seem to be easier for others to do for you than for yourself.
You're not going to have all the talents you need, but you may have some talents that you've never given yourself credit for having.
It's one thing to have the foundation in place, but you need the talents to take advantage of the foundation and to build on it.
Don't settle. Maybe you wait, but don't settle.
If someone checks out, they are not likely to check back in.
It is easy to say you are thankful to important people. It is not as easy to clearly demonstrate your thankfulness to them.
Get the resources you need to be able to make better long-term decisions. That may be money. It may be something else. But if you are having to make huge compromises because of missing resources, you'll be compromising long-term success daily.
I learned early on in a professional services business that your time is your inventory and you can always create more inventory. There is a limit to that strategy, though. At some point, it is not worth your time to sacrifice your time to create more time inventory.
Say no more often (all the time?) to off-strategy opportunities.
Once you learn something solidly, it's comfortable to put yourself into positions where you are subtly re-learning it. AVOID THAT AT ALL COSTS. Skip the 1% confirmation learning and go for the 65% learnings that come from new situations.
Don't over-leverage on any resources: financial, people, a customer, capabilities, etc. As difficult as it might seem to avoid over-leveraging, an entrepreneur can't afford the crippling downside effects if things go wrong. There are OTHER ways to scale.
Seeing a mistake and understanding a mistake are distinctly different activities versus actually going back to fix the mistake. That is where successful people set themselves apart from everyone else.
Try to be ready to cleanly cut the cord on anything at any time you might need to do so. It would be great if that were a 100% (ALWAYS BE READY AT ALL TIMES), but hey, you're an entrepreneur. You're working on the margins.
It is disconcerting to realize there is a reality around you that you have no idea exists until someone clues you in to what it is.
It is very possible to re-set your personal story. It does not happen by accident, though, and it requires more concerted effort than setting your personal story the first time.
Get to meetings early and keep your back to the wall.
When you smell a problem, keep forcing the issue.
Shit doesn't always happen for a reason, but there is always a reason to get your shit together and keep moving ahead.
Some important conversations ALWAYS begin the same way.
Once you've founded something, no one is EVER going to be co-anything with you.
Your initial ideas on timing and when things should happen are probably right. Stick to them.
People dump growth stocks. Be prepared for your version of a micro-market crash.
You may never realize the important people that love what you are doing until you need them most because you are all out of options.
The corporation you left will hardly notice your absence. It carries on just fine without you. That does not mean it is not great to go back and see the people you worked with and reconfirm that it was the right thing to leave when you did.
That development that seems so crushing? You'll move on. Believe in that. YOU WILL MOVE ON.
There is an inherent value to ordering your life around a set of interdependent priorities to keep everything in check. Having deliberately walked away from that order the past two years, I can attest that I am weaker overall, even though the one area where I concentrated remains solid.
As I said, that's what I have from the last two years. Let's see what the next year holds. If you have reactions or thoughts on what you've learned moving away from corporate life, please share them over on our Facebook page. – Mike Brown