Following the Kansas City Chiefs' Super Bowl LIV victory, a spate of videos appeared online analyzing the team's comeback from nearly certain defeat in the game's final minutes. One reveals an important lesson as you develop employee engagement strategies.
An NFL Turning Point video shows the goings-on during a review of an incomplete pass by the Chiefs in the fourth quarter. The team's quarterback, Patrick Mahomes, heads to the sideline to discuss the upcoming play with offensive coordinator, Eric Bieniemy. Mahomes suggests Wasp, a slow-to-develop pass play that the team has used previously to great success in a championship game. During the exchange, Bieniemy relays to other coaches the play that Mahomes requested. He asks in what situation Mahomes would like to run the play. The quarterback responds, "Any down and distance; I don't care."The team ran the recommended play. Mahomes threw for his longest pass completion of the season. The success set up the first of three consecutive scores to lead the Chiefs to victory.
3 Vital Employee Engagement Strategies for Winning Ideas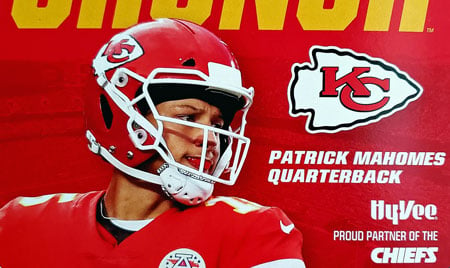 The obvious lesson relative to employee engagement strategies is simple: Listen to, consider, and act on smart ideas from team members. A related lesson is equally important: Provide employees with convenient ways to share recommendations.
As they discussed what to do next during a game setting, Bieniemy did not ask Mahomes to imagine an entirely new play. He didn't require him to diagram the suggested play. The coaching staff had done the work of designing and naming plays so suggesting a possibility was easy and quick. Mahomes could readily contribute his recommendation in a way that the team could act on it and see immediate results.
You may think that the situation in a championship football game with a superstar quarterback is hardly comparable to your business setting. That may be. The key question remains, though. How many more suggestions would you receive from employees if you gave them:
Structure
Vocabulary
Effective channels to offer their insights?
Making It Easy for Employees to Share Winning Ideas
If you are serious about seeking employee input, be sure to effectively address these three employee engagement strategies:.
Structure
If your approach to soliciting employee ideas and suggestions is heavy on requiring even minimal pre-work from employees before they participate, revamp the process. Lower or remove every hurdle to employees offering any input that you can use to develop bigger ideas and solutions.
Vocabulary
Look for ways to simplify the language and questions you use to solicit employees' ideas. Just because terminology is common to your management team doesn't mean that it will be clear throughout your organization. Listen to your employees and make any outreach sound like they communicate.
Channels
There's no single approach to engage employees. The methods that will work early on (as you develop your strategy) will likely differ from those you'll use as you implement whatever your Super Bowl equivalent might be. Ensure that you have the right channels for all the situations where employees will want to contribute ideas.
What's Your Next Play to Call?
Developing structures, vocabulary, and channels to make it incredibly easy for employees to share their ideas could help you win it all! – Mike Brown
Leaders need high-impact ways to develop employees that can provide input into strategic planning and then turn it into results. This Brainzooming mini-book, "Results - Creating Strategic Impact" unveils ten proven lessons leaders can use to boost collaboration, meaningful strategic conversations, and results. Download this free, action-focused mini-book to:
Learn smart ways to separate strategic opportunities from the daily noise of business
Increase focus for your team with productive strategy questions everyone can use
Actively engage stakeholders in strategy AND implementation success