An article in The Wall Street Journal by Paul Ziobro shares an report on how toy manufacturers, including Mattel and Hasbro, are accelerating their new product innovation processes. The brands want to capitalize on market growth stemming from toys tied to popular social media themes. These trends, as one industry insider put it, "burn really bright and really short," necessitating abbreviating product development cycles from several years to months, or even weeks. Thus, the need to catalyze innovative success by streamlining the steps between ideas and implementation.
2 Super Smart Ways to Catalyze Innovative Success
Let's review two of critical success factors toy manufacturers are embracing that are of value, if your brand also wants to speed up its innovation pace.

1. Listening to the Market in Multiple Ways
From just the few toy industry innovation stories reported in the WSJ, you see multiples ways of incorporating broad and early market perceptions to shape innovation:
Social Media Listening
Portland-based organization Zing employs three people to monitor social media for popular topics with the potential to inspire successful toys. During June 2016, they noticed people in Greece using beads as a toy for nervous fidgeting. That holiday season, it released Thumb Chucks, its own version of the beads.
Observing Behavior
Online video platforms provide new ways to observe customer behaviors and perceptions beyond formal research studies. Hasbro has released multiple toys based on viral video trends, including bottle flipping and people wearing dental mouth guards as they try to pronounce complicated words.
Point-of-Sale Analytics Trends
LaRose Industries saw Walmart sales of its Cra-Z-Art glue increase over 50% monthly in the fall of 2016. Investigation showed that kids were creating slime (a gooey, fun concoction popularized on the Nickelodeon TV network) by mixing the glue with other household products. LaRose jumped on the growth trend, introducing slime-making kits in January 2017.
Securing Early Commitments
Before producing the slime-making kits, LaRose Industries paired with Nickelodeon to license the slime name and identity, boosting potential customer awareness immediately. It also secured interest from retailers at the January toy show. It only then moved into manufacturing, reaching stores within 45 days.
Beyond these possibilities, what else can your brand explore to expand its repertoire of market listening strategies?
Directly Observing Customers
Whether in business or consumer markets, how can you secure cooperation from your customers to observe them in their work or home settings, using your products and others? This is a fruitful way to identify innovation opportunities customers can't clearly articulate.
Involve Customer-Facing Employees
Instead of confining new product innovation to employees working in corporate offices, directly involve sales, customer service, and other employees who routinely interact with customers. They are a rich source of customer insights and feedback.
2. Exploiting Small and Nimble to Catalyze Innovative Success
Another theme from the toy industry stories is taking advantage of smallness – in team sizes, budgets, and development windows – coupled with sizable impact expectations:
Hasbro
It has created a Quick Strike team to push new product innovation stemming from popular social media topics and memes. The team has released new products in as few as 11 weeks. The manufacturer is migrating the approach into its overall organization.
Mattel
The team deployed to develop social-trend based toys at Mattel is made up of ten people. The company's CEO reports having given the team very little budget and only three months to have toy ideas ready for last January's toy fair. The toys are scheduled to reach stores later in 2018.
Restricting resources and keeping big innovation demands in place can seem counter-intuitive. The strategy is consistent, though, with other case studies of major brands creating small, separate incubators to rapidly develop new ideas. Consider these points when developing a comparable strategy to boost nimbleness and speed:
First Plan the Team around Capabilities
Rather than starting team selection with an org chart, identify the talents, capabilities, and functions the team needs. Only then start looking for the right people. Set a goal of maximizing the talent pool with as few people as possible. More people provide more ways to slow down decisions and progress.
Push for Self-Sufficiency
A corporate intrapreneurial leader in the cosmetics industry cautions innovation teams to develop their own solutions rather than reaching back into their main organizations. Her experience was that parent organization answers carry time, complications, and overhead that a rapid development team can't tolerate.
Streamline Decision Making
Identify upfront the team's parameters to keep moving forward without seeking review and approvals. As you remove typical decisions steps, make sure to enforce this simplified process throughout the development cycle. Otherwise, the parent organization may work overtime to slow down ideas it hasn't vetted in the typical fashion.
What Else Do You Need?
These examples can get you thinking about new ways to streamline innovation. If you want to go deeper, the Accelerate eBook covers sixteen keys for finding resources to accelerate your innovation strategy. Get your copy today! – Adapted from Inside the Executive Suite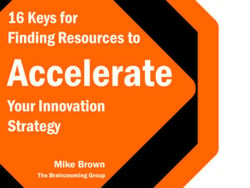 You know it's important for your organization to innovate. One challenge, however, is finding and dedicating the resources necessary to develop an innovation strategy and begin innovating.
This Brainzooming eBook will help identify additional possibilities for people, funding, and resources to jump start your innovation strategy. You can employ the strategic thinking exercises in Accelerate to:
Facilitate a collaborative approach to identifying innovation resources
Identify alternative internal strategies to secure support
Reach out to external partners with shared interests in innovation
Download your FREE copy of Accelerate Your Innovation Strategy today!