This list of warning signs your organization's culture isn't ready for social media isn't comprehensive, and I'm not offering a model today for organizing these issues or a prescription for solving them. But based on challenges we're seeing in developing and implementing social media strategy (let alone getting social media to take hold), seeing any of these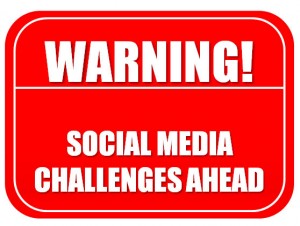 warning signs (or "red flags" as we call them) in your organization, indicates you're in for a struggle to make real, meaningful progress on implementing social media.
How many of these warning signs sound familiar in your organization?
A secretive culture that doesn't readily share information
Senior executives talking about social media in generalities with great urgency
A general fear of customers and the power they potentially hold over the brand
An overly concentrated business with relatively few customers
A distrust of employees and the judgment they use
Complete confidence in senior managers and the judgment they use
Disconnected customer interaction points (in plain English – customer service has no idea what sales is doing with a customer and vice versa)
Inaccessible (or uninterested, uncooperative, etc.) content owners (i.e., subject matter experts)
Slow and unpredictable approval times for traditional communications materials
Multiple layers of approval for most communications materials
Regulatory pressures which threaten open interactions with customers
No one on the internal legal team assigned permanently to marketing who "gets" how marketing is trying to help move the business forward
The internal legal department is a black hole where documents go in, but are nearly impossible to get back out
How did you organization do?
If you found a number of these warning signs in your business and you're trying to get social media incorporated into your organization, call us. We're using the strategic Brainzooming approach in helping organizations successfully deal with all these types of red flags! – Mike Brown
The Brainzooming Group helps make smart organizations more successful by rapidly expanding their strategic options and creating innovative plans they can efficiently implement. Email us at brainzooming@gmail.com or call 816-509-5320 to learn how we can help your organization make a successful first step into social media.