Can you successfully integrate creativity into analytical business functions? The answer, according to Keith Pigues, CMO of Plygem Industries and co-author of "Winning with Customers," is a resounding, "Yes." To prove the point, Keith recruited a stellar panel of business-to-business practitioners at the Business Marketing Association Unleash conference to provide a real world perspective on how creativity can flourish in business.
Keith Pigues, former president of the national BMA and a friend going back several years to a Marcus Evans CMO conference, pointed out how easy it is to leave creativity behind when you're involved in analytical business work. He set the stage for the panel, however, with the oft-quoted 2010 IBM CEO study which supported the importance of creativity in business. The panel was the best I saw during the BMA conference, and here are 10 of the lessons shared by the panel for integrating creativity in business.
How Innovators Use Creativity
You can use creativity, within complex markets as a source of competitive advantage. Creative leaders can make their organizations stand out by implementing business model changes, inviting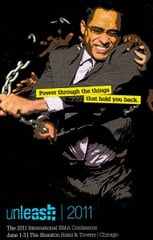 disruptive innovation, and being very comfortable with ambiguity. - Keith Pigues
What are 5 important skills for innovators? According to "The Innovator's DNA" from the Harvard Business Review, the skills include being able to associate disparate elements, questioning what everyone knows, observing both inside and outside the business, experimenting, and networking across functions. - Chris Chariton, Globalspec
Instigating Creativity
Building your creative intelligence skills requires practice and deliberately scheduling time to look at the bigger picture for your organization. - Chris Chariton, Globalspec
"Forced constraints and unwavering expectations balanced with a strong code of conduct create enormous room for creative problem solving." - Randall Rozin, Dow Corning
To build a stronger foundation for creativity, seek out more direct contact with customers and seeing how they use your products. Observing real customers interacting with products can open many avenues for creative possibilities. - Chris Chariton, Globalspec
Thinking Differently
"Don't underestimate the value of starting from scratch and re-imagining your business. Burning platforms spark creativity." - Randall Rozin, Dow Corning
Restating business issues provides an opportunity to improve your advantage. Customers don't buy your product. They buy what your product does for them. An example? They don't purchase a 1/4 inch drill bit. They're purchasing a 1/4 inch hole. - Adrian Joseph, Parker Hannifin
Project your business situation five years out and then look back to see what obstacles might have presented themselves within the time horizon. This technique can help make apparently insurmountable problems from today's perspective appear much more manageable. - Randall Rozin, Dow Corning
The Value of Deadlines
Dow Corning runs 100-day projects to ensure the deadline enforces creativity and doesn't allow the project to go on forever. - Randall Rozin, Dow Corning
"Creativity for creativity's sake is artistry. Creativity with a defined purpose and a timeline is business." - Randall Rozin, Dow Corning
To tap into your own extreme creativity, download the free ebook, "Taking the NO Out of InNOvation" to enhance your creative perspective! For an organizational creativity boost, contact The Brainzooming Group to help your team be more successful by rapidly expanding strategic options and creating innovative plans to efficiently implement. Email us at brainzooming@gmail.com or call us at 816-509-5320 to learn how we can deliver these benefits for you.