Ready to accelerate innovation at your organization?
Leaders who want a collaborative, innovative culture must realize that it goes way beyond installing suggestion boxes. It takes a collaborative, strategy that touches every part of an organization.
Brainzooming is always honored when we're asked to catalyze an organization's innovative culture. We accomplish it through dramatically expanding diverse thinking and collaboration via:
Opening the Door to Broad Engagement
Brainzooming defines innovation simply: Innovation is anything that makes a fundamental, valuable improvement in the status quo.
This definition isn't sexy. It opens an important door, though, for encouraging an innovative workplace culture. This approachable definition frees internal and external audiences to share:
Insights that point toward improvements
Perceived opportunities and challenges
Ideas and solutions to create breakthroughs
Five Keys for Accelerating Innovation

Our approach for accelerating innovation centers on five strategies:
Customizing Innovation for Your Organization
Brainzooming adapts our Design – Engage - Launch approach to customize our process and guide your organization in shaping and implementing a collaborative innovation strategy that matches your strategic aspirations.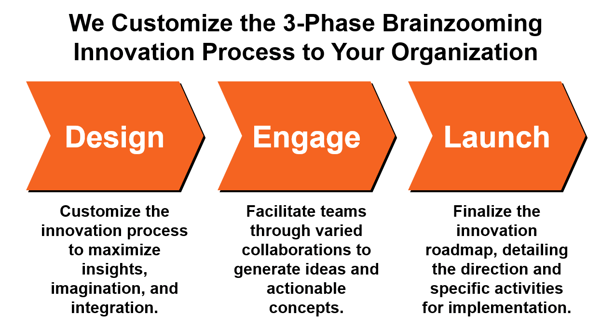 Design
During this initial phase, we customize the activities that foster identifying breakthrough ideas and actionable innovation. We collaborate with from the start to design an innovation initiative that:
Based on your timeline, participant locations, and your upfront exploration, we'll design engaging collaborations that realize your desired innovation results.
Engage
Implementing the Design strategy, we select collaboration formats that best fit your objectives and engage audiences:
Open-ended surveys capture early thinking from a wide, diverse audience
In-person, collaborative events quickly move from creative thinking to innovative concepts and mini-plans
Online collaboration via our Blast! platform engages dispersed audiences to generate ideas with outrageously productivity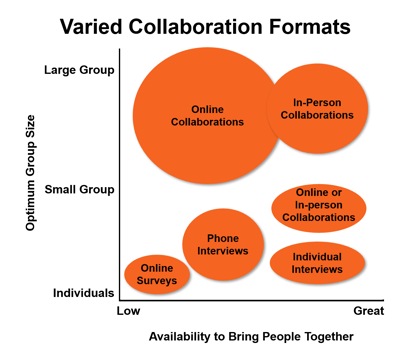 Our multi-format capability fosters high-performing, successful innovation engagement from everyone. During the Engage phase, we accelerate innovative thinking through:
Removing cumbersome steps
Managing the experience to create a lively pace
Employing small groups (and online collaboration) to include more people during innovative thinking
Using unexpected questions to introduce new thinking perspectives
Documenting all the input so it flows directly into next steps
Participants develop documented concepts from all prioritized ideas. This supports a seamless transition into the Launch phase.
Launch
It's essential to move from innovative ideas to implementation. It starts during the Design and Engage phases; there, we adapt our innovation process with the end result in mind.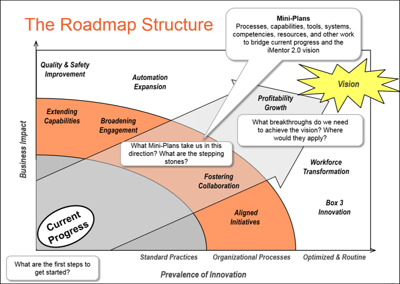 During the Launch phase, we finalize your innovation roadmap. The roadmap collects the insights and ideas from the first two phases to develop an implementation-oriented plan. It includes:
Vision - Foundational statements, strategies, and guides for current and future innovation
Insights - Facts and business conclusions underpinning the innovation strategy
Ideas - A prioritized listing of ideas emerging from innovation collaborations
Concepts - One or more related ideas described in greater depth, with expected benefits, applications, and next steps
Implementation Plans - Key steps to launch an innovation initiative plus suggested timing and responsible parties
Support Tools - Decision support resources to prioritize and implement ongoing innovation initiatives
This forward-looking plan focuses your team on activating the people, tactics, and timing to ensure innovation pilots start well and stay on track. In all, the impact of customizing the three phases delivers a strategic innovation direction and the concrete steps to turn ideas into reality.
The Best Environments for Collaborative Innovation
The Brainzooming innovation process creates impact for client organizations with a variety of innovation cultures:
Smart, experienced teams who foresee looming market disruption
Prolonged success that have become over-dependent on safe thinking, avoiding innovation and smart risk-taking
A gap in introducing dynamic external perspectives to catalyze innovation
Ongoing struggles to implement strong ideas beyond early development stages
Each of these situations, despite apparent challenges, demonstrates a vibrant core of insight and interest in innovative thinking. Coupled with leaders seeking positive change and wanting to engage diverse audience for new thinking, the stage is set for successful collaborative innovation.