At the end of March's #Ideachat, I commented to JoAnn Jordan (who lives in my hometown of Hays, KS) that I use three different Twitter tools to participate in Twitter chats as active as #Ideachat. JoAnn asked me to write a post explaining why in the world I use three different Twitter interfaces. Here's my answer to JoAnn's question.
What is a Twitter Chat?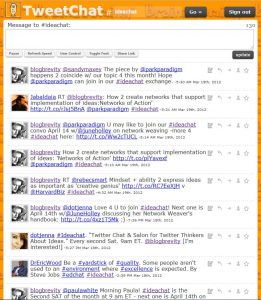 A Twitter chat is a typically a scheduled, usually hour-long time set aside for participants to discuss (which really means, "tweet") a specific topic. The conversations are organized through including a Twitter hashtag specific to the chat in all tweets. There are a whole slew of Twitter chats on a whole slew of topics, although no one seems to be sure whether there is a truly comprehensive and up-to-date list of them.
Some Twitter chats are snoozers because not enough people participate. Others (such as some of those on social media) are mad houses because there are so many side conversations going on it's difficult to follow and get much out of them.
I've found #Ideachat to be in the "just right" category: it's always a vibrant conversation on relevant topics where you can actually interact, share, and learn from global participants who show up the second Saturday of every month at 8 a.m. central time.
Participating in a Twitter Chat
Even though #Ideachat is a much more manageable than other chats, here are the three Twitter interfaces I use to keep up, along with how and why I use each one.
Tweetchat.com
Tweetchat is great application because it is designed for Twitter chats and automatically appends the appropriate hashtag to every tweet. I use Tweetchat for:
Keeping track of questions and prompts from the host / moderator.
Monitoring the general chat conversations and identifying tweets to build on and respond to within the discussion.
Responding and replying to questions and comments from others.
Retweeting all host questions (This is so they appear in the stream and provide context to any followers who might be monitoring the chat. This also helps organize the tweets if I want to write a blog post from the chat.)
Retweeting all interesting comments that add to the discussion, IF they are short enough to retweet, i.e. under 140 characters. If the retweet winds up being more than 140 characters, I will shift to Twitter.com or Tweetdeck to retweet it. (I retweet intriguing comments from others that might also be destined for a post-chat blog post.)
Clicking on the names of people I do not think I follow. This opens up their Twiter.com profiles to easily follow them.
If you're only going to use one interface, Twetchat is a strong choice.
Twitter.com
I do not spend a lot of time on Twitter.com, but it does a nice job for two things during a chat:
Checking to see if I am following new people in the chat, and following them if I am not already.
Retweeting comments from others that are too long to retweet in Tweetchat.
While you can have an ongoing search for your chat hashtag on Twitter.com, it's not the best choice since you still have to remember to include the hashtag in every tweet.
Tweetdeck (old version) or Hootsuite
I usually find Tweetdeck refreshes more quickly, so I tend to use it more frequently during chats. But that is only because I am still using the old version of Tweetdeck. If not for that, I would probably deal with the slower refreshes on Hootsuite since it does have some other advantages. Hootsuite allows you to create a specific tab with only the streams relevant to a particular chat. Having all the columns in one tab along with the ability to drag and drop them (which Tweetdeck cannot do) is a real advantage. These applications come in handy for:
Checking my @ mentions and search column to see if anyone within the Twitter chat is "talking" to me. It can be difficult to spot people reaching out directly on Tweetchat. If responding from one of these apps, it is important to remember to add the hashtag since it will not be done automatically.
Creating a Twitter chat specific search column to track the chat and retweet tweets too long for Tweetchat (this applies to Tweetdeck, since Hootsuite won't letyou retweet a too-long tweet).
Tracking related hashtags and a list of people who generally participate in the current Twitter chat.
Responding to non-chat conversations.
That's my setup for participating in a chat. Well, all that plus a Diet Dr. Pepper. And, if it's one of Jim Joseph's evening EXP event chats, then rule number 5 is also in effect.
If you're active on Twitter chats, what shortcuts have you found to participate on them? - Mike Brown
The Brainzooming Group helps make smart organizations more successful by rapidly expanding the strategy options they consider as we create innovative plans they can efficiently implement. Email us at info@brainzooming.com or call us at 816-509-5320 to learn how we can help you enhance your strategy and implementation efforts.