It's not THAT often when successful presentation tips can make a 6-figure financial difference in your career, but that was the case recently in Kansas City. I attended the Gigabit Challenge Finale in Kansas City recently where 17 finalists (individuals or teams) made the last presentation pitch for winning $450,000 in cash and services. Organized by Think Big Partners, the Gigabit Challenge was a global competition centered on the prospects for taking advantage of the Google Fiber initiative under development in Kansas City.
While I admired the creative ideas and hard work that the Gigabit Challenge finalists demonstrated, the PowerPoint presentations were, for the most part, underwhelming.
Presenters faced a panel of 17 contest judges (mostly from the legal and financial worlds), another 250 members of the live audience, and an online audience that averaged about that same number. Each presenter had ten minutes to present their idea and five minutes for questions from the contest judges.
Here are seven successful presentation tips on how many groups could have scored better with all of those audiences:
1. Make sure we know who you are.
Make your name and contact information the first slide in your PowerPoint presentation and make it the last. The judges may know who you are, but why not make sure? Also, the rest of the audience could contain people who have the financial resources, the intellectual piece of the puzzle, or the contacts that you've been missing. Make it easy for them to remember you and find you later by repeating your name and contact information.
If you are asking people to invest in your creative idea, they need to be excited about your creative idea. Somewhere in your presentation, you need some drama, whether it is from your performance, from the images on your PowerPoint slides, or from the audacious brilliance of your idea. All three would be good.
3. Use the power of PowerPoint.
Nearly every finalist had some process story to tell - either in how they were going to develop their idea or it was going to be used. But almost no one used the power of basic PowerPoint capabilities. It does nice builds, visual effects, sound effects, reveals, takeaways, etc. It has limitations, but basic PowerPoint capabilities will do a whiz-bang job of focusing the audience's attention on just what you want them to see when you want them to see it.
4. If we can't read it, you don't need it.
Many, okay most, of the presentations had PowerPoint slides that contained way more words than anyone could possibly read during the time they were displayed. That level of verbal detail is what your business plan is for, not your presentation. Words on slides should be cues for the points you want to make in your presentation.
5. Play it safe(ty) margin.
Sometime during the day, the projector went a little off kilter and began cutting off the edges of the slides. That's not uncommon. Account for it by making sure that your slide content stays inside a safety area that covers no more than 75 percent of the PowerPoint slide's area.
6. Have a plan.
This applies to two areas. Many of the presenters presented ideas rather than business plans. If I was looking to invest, I want to know who would be interested in buying your product/service, how you were going to develop and market that product/service, and what the cost and revenue projections were—pretty much in that order. If that level of detail isn't available or possible at this point, I would suggest an organization scheme that borrows from the SPIN selling method.
7. It's your time in the sunshine, enjoy yourself.
Just being on that stage means you done good. Act like you want to be there.
To learn more about the possibilities of Google Fiber you can download the free report sponsored by the Social Media Club of Kansas City and prepared by The Brainzooming Group. - Barrett Sydnor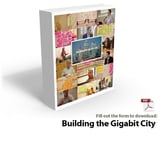 How can ultra high-speed Internet speeds drive innovation? "Building the Gigabit City: Brainzooming a Google Fiber Roadmap," a free 120-page report, shares 60 business opportunities for driving innovation and hundreds of ideas for education, healthcare, jobs, community activities, and more. Download this exclusive Google Fiber report by The Brainzooming Group addressing how ultra high-speed Internet can spur economic development, growth, and improved lifestyles globally.