We have a guest post today from Alyssa Murfey who reached out as part of a university communications class project. So while it's not an official Blogapalooza post, Alyssa's post is definitely consistent with the intent of Blogapalooza. Alyssa Murfey is a Senior at Flagler College, graduating in Spring 2012 with a major in Communications and minors in Business and Advertising. She currently works for emfluence, an interactive marketing firm in Kansas City, specializing in interactive marketing, social media and branding. Here's her take on spam and what somebody needs to do about it:
How many times have you found yourself in this scenario? You open your email, bright and bushy-tailed, ready to put your productive pants on and work. You login, only to be assaulted by a nauseating number of messages in your inbox. Your eyes scroll down the screen. You suddenly feel a bit dizzy. This can't be your inbox. You don't know any of these people. Who is "Expedia," "Amazon" and "Zoosk"? Frustration begins to boil inside you, as you furiously sort through the overwhelming pile of hot, smelly emails (crap). Then it hits you: you've been spammed.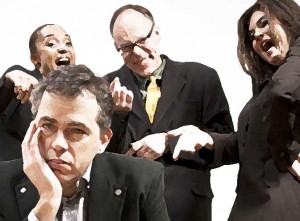 Spam is a frustrating problem, especially as advertisers shift into the digital age. In 2010, 107 trillion emails were sent on the internet, according to an online research company, called Pingdom. Of those 107 trillion emails, 89.1 percent were spam. It's as if Billy Mays is coming through the TV infomercial screen and into your inbox, shouting Oxi-pumped products at you...but you can't turn it off.
The CAN-SPAM Act forces businesses to offer a clear opt-out option, or else fork up fines of up to $16,000 (FTC.gov). The stakes are high, but the numbers don't lie...spammers are still spamming.
Just last year, Russia cracked down on spam kingpin, Igor A. Gusev. Gusev ran a site, called SpamIt.com, which lewdly spammed an average of 500 million email messages a week.
Spammers are not only big scary Russian dudes, but also brands that you know and trust. Borders announced it was selling the email addresses, shopping data, physical addresses, phone numbers, etc. of 50 million users to Barnes and Noble for $13.9 million. They gave their customers around two weeks to opt-out of the email list before it was handed off to B&N, though this happens plenty enough when the company slinks by, selling the intellectual property of its users, unbeknownst to the users.
The email marketing industry encourages "Best Practices," creating a high standard that rewards honest businesses. Consumers are also becoming more aware of the intellectual property they give out. Is this enough to combat spammers?
Canada's own version of the CAN-SPAM Act, known as the CASL, went into affect Fall 2011. The CASL mandates that businesses offer clear opt-in options and opt-out options (unlike CAN-SPAM). Businesses must promise consumers to never sell their lists to a third party (Direct Marketing News). What a crazy thought! The business has to warn you that they're taking your information for email marketing! If you can't catch my sarcasm, let me spell it out: I think mandating an opt-in and opt-out among businesses for email marketing is kind of a "duh." Why wouldn't we want to know who is taking our information, and how they plan to use this information? If you are going to take someone's email address, you ought to be mandated by the FTC to include a standard statement on the bottom, letting the user know that you will never spam or sell the information to a third party. If you weren't prompted with this message, red flags would go off in your head. I don't think it's too much to ask. It's not that much harder to be the good guy.
The CAN-SPAM Act hasn't been updated since 2004 and the internet has changed exponentially since then. It's time to tighten the reins on spammers and force all businesses to include opt-in and opt-out options that are transparent, with violation punishable by the FTC. This is a step in the right direction, but there will always be some hooligan trying to cheat the system. Haters will hate, spammers will spam. - Alyssa Murfey