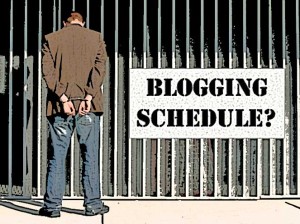 In the comments to last Friday's post about deciding whether to ditch a blogging schedule, Jeffrey Henning asked what factors I'd considered in leading to the conclusion that a daily blog strategy still makes sense for the Brainzooming blog. It's a very valid question, although one of a strategic nature about our business that I typically wouldn't address here. However, since Jeffrey asked, here's a sampling of the factors we considered with our daily blog strategy and our conclusions on each of them.
5 Reasons to Not Ditch Our Daily Blog Strategy
1. Strategic Brand Messaging
We've incorporated versions of a phrase referencing we "blog daily on strategy, creativity, innovation, and social media" in a variety of business descriptions personally and about The Brainzooming Group. The phrase says where we focus (both in content and as a business) and how actively we are engaged in these areas. Since we have made a daily blog strategy part of The Brainzooming Group promise and our strategic brand messaging, it is important to live out the promise.
2. Proof Point to the Brainzooming Process
We don't sell the idea of "creativity when you feel like it." We sell the Brainzooming process and our creativity exercises and techniques as the way to be creative when feeling creative is the last thing on your mind, but the first thing on your to do list. If we were to only blog when we feel like it, there would be a major disconnect and no credibility to a fundamental proof point for our brand.
3. A Point of Differentiation
There are many organizations claiming to do aspects of what we do in helping companies develop more innovative strategies. Consistently publishing Brainzooming with a daily blog strategy demonstrates our tenure, experience, plus our focus on continually creating and expanding our strategic innovation techniques. When another firm throws up an online site with a few pages and a "check back here" message on a blog, I like our advantage in winning a potential client as they compare who really specializes in strategic innovation.
4. We're Doing What We Recommend
While The Brainzooming Group isn't focused exclusively on social media strategy for clients, social media strategy development and implementation has become a significant part of what we do. If we recommend being a consistent social media presence as a key to success, it's important we carry out what we recommend, gaining new strategic learnings to benefit our social media strategy clients.
5. Our Readership Is Growing at Triple Digit Rates
We've just reached two years for the Brainzooming blog on a single Wordpress platform, so we now have stable year-over-year comparisons in Google Analytics (another reason in itself to maintain our schedule). The original article on why you should ditch a blogging schedule suggested a regular schedule "sucks the life force out of your blog." To the contrary, the Google Analytics metrics show unique visitors nearly doubled in the second year on Wordpress while visits from search were up more than 650% in the same period. We reached readers in 179 countries last year. Those metrics don't even consider audience growth from email subscriptions and the RSS feed. If the audience is continuing to grow at those rates, it's important to continue fueling it with regular content.
The Only Significant Challenge to Our Daily Blog Strategy: Time
The time demands along with it becoming more challenging to remember what I have and haven't already addressed in the Brainzooming blog makes it seem like I'm ready for a new creative adventure apart from the blog. Since the Brainzooming blog started, I've hardly ever picked up the guitar, painted a picture, or even drawn much. Four years concentrating on a single creative outlet is a long time for me to stick with one form. That frustration does have me considering a variety of other alternatives. So far though, none of the alternatives considered delivers the same advantages as regular, daily publishing.
You Have to Make Your Own Decisions
As I wrote Friday, you have to answer your own question about regular or even daily blogging. The answer that's right for you or your organization has to make sense with what you're trying to achieve. What are you thinking about publishing to a regular schedule? Does it make sense for you? – Mike Brown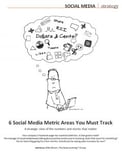 If you're struggling with determining ROI and evaluating its impacts, download "6 Social Media Metrics You Must Track" today! This article provides a concise, strategic view of the numbers and stories that matter in shaping, implementing, and evaluating your strategy. You'll learn lessons about when to address measurement strategy, identifying overlooked ROI opportunities, and creating a 6-metric dashboard. Download Your Free Copy of "6 Social Media Metrics You Must Track!