This Tuesday, May 3, 2016, at 1 pm CDT (US) I'll be appearing on Social Jack TV™ with host Dean DeLisle talking about Taking the NO Out of InNOvation.
Whether personally or organizationally, the desire to be more innovative can run straight into all kinds of barriers, brick walls, and booby traps. Using even just a few smart tools and techniques, however, you can eliminate these NO's to a successful innovation strategy and move yourself and your organization to innovative ideas setting you apart from the competition. We're planning to cover innovation strategy for both individuals and organizations., including
Some of the most common NO's blocking creativity and innovation strategy

How to benefit from structures and exercises to spur creative ideas and innovation

New possibilities to improve innovation strategy successes amid challenges to new thinking and actions
You will be able to call in, chat, or tweet about the conversation before, during, and after the program.

Let's have robust participation from the Brainzooming family to create a stimulating conversation on innovation strategy with Dean and me! – Mike Brown
Looking for Ways to Develop a Successful
Innovation Strategy to Grow Your Business?
Brainzooming Has an Answer!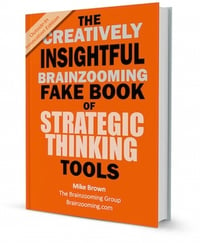 Business growth can depend on introducing new products and services that resonate more strongly with customers and deliver outstanding value.
Are you prepared to take better advantage of your brand's customer and market insights to generate innovative product ideas? The right combination of outside perspectives and productive strategic thinking exercises enables your brand to ideate, prioritize, and propel innovative growth.
Download this free, concise eBook to:
Identify your organization's innovation profile
Rapidly deploy effective strategic thinking exercises to spur innovation
Incorporate market-based perspectives into your innovation strategy in successful ways
[sc:Outside-In ]