Emma here. You may remember me as the woman who so disliked conferences that Mike felt compelled to write a blog post for her. And that's okay if you do -- but you should know that I no longer dislike them. Along with all 23 of those helpful tips for introverts in that post, what helped was attending the right conferences. Who knew? The last one I went to was so good I was already looking forward to the following year. (I'm enthusiastic by nature, but that was a new experience.)
So yes, I've come around. In fact, I've already got a conference lined up for the first part of January, and it's one that sounds so good I want to tell people about it ahead of time.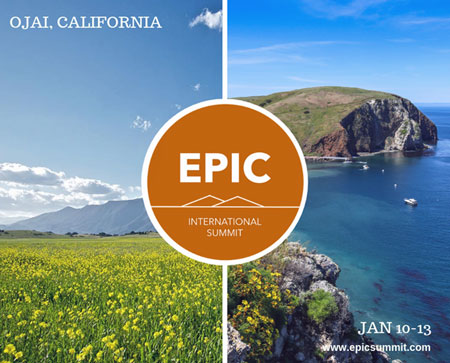 First of all, it's a creativity and innovation conference, and as you know that's kind of our jam here at Brainzooming. Secondly, the sessions and speakers are impressive (hello, Disney / NASA JPL / Game of Thrones / Westworld / Ewan McGregor and many others). Third, it's for professionals across industries and from around the world. Fourth: it's in Ojai, CA, which is a beautiful, quirky, and deeply peaceful place to stay. Fifth, I love this aspect, from the website: This event provides a point in time for attendees to disconnect from a heavily tech-saturated world, disrupt routine habits and patterns of thought and discover new insights to catalyze greater creativity and innovation in their professional and personal lives.
Obviously, with all of that going for it, it's called EPIC, and I would love to see you there. It's happening January 10-12, with an optional day trip on the 13th to the Channel Islands.
You'll want to take advantage of the Brainzooming Community discount rate of $749 -- that's a $500 discount, and includes meals except Friday night dinner. To grab that rate, go to www.epicsummit.com/register and use promo code EPICBRAINZOOMING19.
For the full scoop, go to www.epicsummit.com.
If you decide to go, drop me a line! I'd love to meet up with you. - Emma Alvarez Gibson