Even among people signed up on Twitter, you see questions about Twitter's value and what Twitter is good for strategically. Many times these questions come from people who are still using Twitter at Twitter.com and haven't gravitated toward a more robust application such as Hootsuite or Tweetdeck.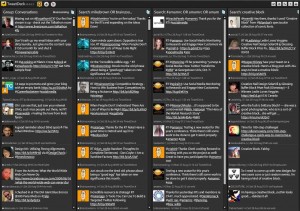 As a Tweetdeck user, here are 5 columns set up in Tweetdeck which increase the networking value Twitter provides:
"Conversations" - This is a group column that's continually building as anyone who has tweeted with me, retweeted a post, or I've met personally is added. Rather than a dynamic list which ages people off, no one leaves this list because of recent inactivity. It's a great way to pay special attention to closer connections on Twitter. As I've explained to Nate Riggs, to a great extent, this column is my primary RSS feed and signal that friends have published new blog posts.
A Search on Across Twitter Identities - I have a bunch of Twitter identities directly, plus others I help manage. Beyond a Tweetdeck "Mentions" column which shows every time a single identity (i.e. @Brainzooming) is tweeted, this search column brings together mentions across multiple accounts and variations in my name. It's helpful for seeing what tweets are resonating with others and trying to ensure I notice conversation starters and participate. This column really lights up when one of the Mike Browns out there screws up in sports, or it's the anniversary of another one screwing up a natural disaster.
Searches for Organization, Event, and Chat Hashtags - Hashtags allow words and phrases to be easily searched in the Twitter world. Having a variety of columns dedicated to organizations (i.e., #smckc, #bmaengage), events (both #amamrc and @amamrc), or Twitter chats (#innochat, #blogchat, etc.) where you're active helps you stay current on new information and relevant links. It identifies people involved in the same subject areas who may be good people to follow or retweet.
People Who Need Help - There's a permanent search set up in my Tweetdeck on the phrase "creative block." Many times a day, people globally tweet their creative frustrations. This column signals people who might benefit from a Brainzooming blog post on beating creative blocks. I tweet them the post's link to ideally be helpful to them. There are other searches set up on additional topics where there might be blog content to share to assist or answer questions.
Guest Blog Titles - When you guest blog, your Twitter name may or may not appear with the article or in a tweet about it. I have a few columns set up with searches on recent guest posts that both help me learn when a post is published and also indicate which posts are getting read and shared. Again, this can be another great source of new people to follow.
And for even more ideas on tools to help you get more value based on who you follow on Twitter, check out a wonderfully resource-rich post from Nate Riggs.
Are you using any of these columns to gain greater value from Twitter? Are there other columns effective for you? Please share your thoughts in the comments! - Mike Brown
The Brainzooming Group helps make smart organizations more successful by rapidly expanding their strategic options and creating innovative plans they can efficiently implement. Email us at brainzooming@gmail.com or call us at 816-509-5320 to see how we can help you define a strategy firmly tied to business yet recognizing the impact of social networking on your market opportunities.