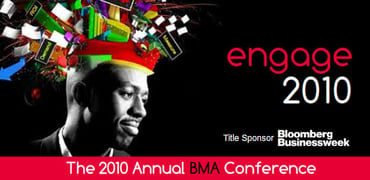 For the second year in a row, The Brainzooming Group will be producing the social media content effort for the national Business Marketing Association Conference in Chicago which starts Wednesday afternoon, June 2 and runs through mid-day Friday, June 4.
The lineup of presenters includes:
You can download a copy of the conference brochure to get a better sense of what happens when throughout the three-day event.
Under the conference's "Engage" theme, we'll lead a team of great business marketing, communications, and social media professionals covering the conference through live tweeting, blogging, video, photography, LinkedIn, Facebook, and Foursquare, among other things!
A wide array of social media efforts will provide a content-rich experience to both attendees and those who can only attend the BMA conference virtually. Our team will be adding to the conference by allowing you to:
Track Presenters and Presentations: All social media feeds from this stellar B2B learning event can be found at the conference's Engage aggregator site. You can also track tweeting activity here or on the main Brainzooming page. The conference Twitter hashtag is #BMAEngage. We'll also be using codes for specific sessions to focus the broad content.
Spread the Learnings: When you see information that resonates with you, share it with your own network through retweets and other social bookmarking.
Participate in LinkedIn Discussions in the BMAEngage Group: LinkedIn members are invited to join the BMAEngage group on LinkedIn. You'll be able to participate in extended discussions with presenters and other group members on the B2B marketing topics addressed throughout the event.
Share Your Own Perspective on B2B Topics: We'll be linking from the main site to B2B and other relevant marketing topics on the web. If you'd like to share your perspectives, leave a link to your blog post in the comments section here, and we'll get related links shared on the conference website. You can also leave comments on the BMAEngage Facebook wall, in addition to checking out other attendees, discussions, events, and content about the conference.
Follow the Business Marketers Tweeting about the Conference: Through an online application called BlastFollow, you can follow everyone tweeting with the #BMAEngage hashtag. Simply go to the Blastfollow website, enter the conference hashtag (#BMAEngage), your twitter id and password, and BlastFollow does the rest.
Get the Full Conference Twitter Transcript: Visit What the Hashtag? to download a pdf file of tweets for the entire conference or any date range.
For those who are able to attend in person, there are even more ways to get engaged with social media effort:
Tweet with Us - Do your own live tweeting during the event using the #BMAEngage hashtag. When you do, there's a great chance you'll see your tweets on screens throughout the venue. We'll be using the Wiffiti application from LocaModa to post tweets and share them with conference attendees.
Shoot Your Own Videos and Photos to Document the Conference - Just as with blog posts, we're eager to have attendees share videos and images of presenters, other attendees, and the event. You can stop by the Engage Social Media Station to upload your videos and photos or send links to BMAEngage@gmail.com.
Check in on Foursquare (and Let's All Get a Swarm Badge) - We've set up a FourSquare location specifically for BMAEngage at the Swissotel. Be sure to check-in daily, to let everyone (including your boss) know you're present and accounted for with all the great sessions at BMAEngage.
Learn and Share Your Knowledge with the Social Media Team - The social media team is comprised of some great marketing, communications, and social media professionals. The conference provides a great opportunity to network, share best practices, and talk about new ideas on various topics. You'll be able to pick out the social media team with our black "Engage" shirts throughout the conference.
Let Others Know You're Engaged in Social Media - The social media team will have "Engage" buttons for anyone who's tweeting, blogging, or creating other attendee-generated content. Simply stop by the Engage Social Media Station or hit up one of the social media team members for your button...once you engage in social media!
Join Us for a Pre-Conference Tweetup Tuesday Night - For anyone at the conference or in Chicago on Tuesday, just us for a Pre-Conference Social Media Tweetup at 6:30 p.m., Tuesday, June 2. It will be at the Palm Restaurant in the Swissotel. Anyone at the conference and friends of the Brainzooming blog are welcome to join us!
Remember you can track the live tweeting activity below or on Twitter with the conference hashtag #BMAEngage and find all the conference's social media feeds at the main website. Get Engaged! - Mike Brown