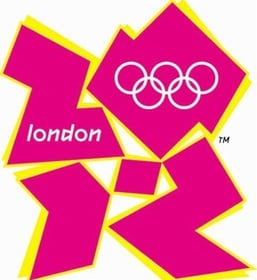 Here are thoughts on the sports, the show, and the marketing for the 2012 London Olympics. Nothing exhaustive here, but a variety of thoughts from my Twitter, Facebook, and "still inside my head" feeds during the past two weeks of watching a good amount of the 2012 London Olympics.
The Sports
Don't you wish you could assign a difficulty rating to your co-workers as they do to dives in the Summer Olympics? Then your performance review and compensation would be tied to how well you performed relative to the difficulty rating of your work team.
While it appeared early on Michael Phelps may have made a significant mistake in coming back to compete in one more Summer Olympics, it clearly was the right thing to do. And in the stuff great stories are made of, the his initial failure to medal followed by his record setting performance (and humility in doing so), turned Michael Phelps from a super human to a personality possessing the flaws we all have and attaining the success we all aspire to in our lives.
It doesn't seem that the men's decathlon gets nearly as much attention as it did when Bruce Jenner won the decathlon in 1976. Maybe that's to try to save us from some horrific future version of whatever the Karadashians juggernaut might be like 35 years from now.
It's fascinating NBC was reporting diving scores along with Twitter followers and YouTube views of the athletes. Maybe by 2016, live tweeting will be an Olympic sport.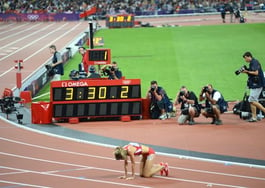 The Thrill of Victory? Kerry Walsh Jennings and Misty May-Treanor winning their 3rd gold medal in beach volleyball.
The Agony of Defeat? Morgan Uceny falling to the ground in the 1500 m and beating the track in tears.
The Show
I am just not a fan of the Pageantry + Sports formula, whether it is the Olympics, the Super Bowl, or whatever. Having said that, the opening ceremony for London just seemed to be a mess, including even Paul McCartney turning in a disappointing performance. Maybe you simply had to have a UK perspective to get the whole thing. The closing ceremony was an equal, but different kind of mess. At least in Beijing, China was able to throw so many people at their opening ceremony it cut through all cultural barriers. Who needs subtlety when there is like a million people on the stadium floor?
With all the crap NBC took for tape delaying the Olympics, it would have been great for the network to have essentially a "director's cut" approach to their evening 2012 London Olympics programming. NBC could have featured (on either a main channel or an adjacent one) deeper analysis, competitor interviews, and even meaningful social media perspectives that assumed knowledge of the outcome. Like the explanatory commentary and alternative takes on a movie DVD, the approach could have taken viewers deeper inside the competition than is possible with a live broadcast.
Was it just me or did anyone else think that most of the announcers at the 2012 London Olympics sounded like Dick Enberg or Verne Lundquist?
The Marketing
My favorite advertising song from the broadcast (at least one that prompted me to download it) was from Samsung, which featured "Smile Big" by Leftover Cuties (affiliate link). "Too Close" by Alex Clare (which is featured in the Microsoft Internet Explorer ads) still remain a favorite, but it has been for some time.
I don't watch a lot of televised sports, primarily NASCAR races because I used to manage a corporate NASCAR sponsorship. One noticeable difference between NASCAR advertisers and Summer Olympics advertisers was the dearth of ED commercials in the 2012 London Olympics broadcast. ED commercials are all over NASCAR broadcasts. But then again, with all the hubbub over the US rowing team's medal stand performance, ED meds clearly aren't needed by the Summer Olympics crowd!
My favorite national advertisement was "The Ex" for Toyota Camry (although until I started writing this blog post, I couldn't have told you who the ad was for, other than I knew it was a car company). While the Toyota Camry ad may not sit well with the mental health community, "The Ex" stood out for its entertainment value since it reminded me of a Kristin Wiig character from Saturday Night Live.
In Kansas City, Google Fiber took great advantage of the Olympics for building even more awareness of its introduction locally. On the other hand, the last few days of the Olympics were a little more pleasant with slightly fewer Missouri primary ads; it's tough to decide which Missouri political ad I'll miss more: Sarah Palin, the guy who missed 500 House votes (but not one House Party), or Lieutenant Governor candidate Peter Kinder who was called out in his opponent's ad as being an unruly strip club patron. – Mike Brown
Download the free ebook, "Taking the NO Out of InNOvation" to help you generate fantastic ideas! For an organizational creativity boost, contact The Brainzooming Group to help your team be more successful by rapidly expanding strategic options and creating innovative plans to efficiently implement. Email us at info@brainzooming.com or call us at 816-509-5320 to learn how we can deliver these benefits for you.